We support Australian Made Week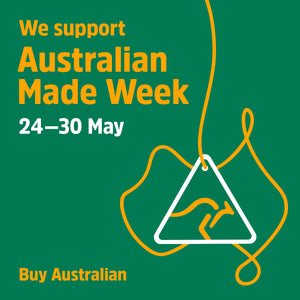 May 2021                                                                    
D&D Technologies gets behind Australian Made Week
D&D Technologies is proud to be a part of the first-ever Australian Made Week (24 – 30 May), a campaign that urges Aussies to purchase one extra locally made or grown product per week to help boost the country's economy over the next 12 months.
From humble beginnings 30 years ago, D&D Technologies has grown to become a worldwide market leader in innovative gate latches, locks, hinges and closers. The company now ships its products to growing export markets in the US, Canada, South America, the UK, France, Spain, Holland and Japan.
President and CEO, David Calabria said when the company was expanding its product line in the late 1990s, they made a very conscious decision to keep their gate hardware manufacturing operations in Australia.
"We wanted to keep and create new jobs for Aussies, replace imports with our high-quality products and retain control of our Aussie gate hardware innovations," David said.
"Our focus on keeping our operations onshore over the last thirty years has been a huge source of pride for our 120 Australian staff."
David said purchasing an Australian Made product means that money spent on that product remains within our economy.
"This in turn supports Australian businesses and their employees. These employees go on to support other Australian businesses through their own local purchases," he said.
"Making the simple decision to purchase one extra Aussie product each week can have a massive influence on the Australian economy."
The mission of D&D Technologies has always been to be a profitable enterprise that is actively involved in the protection of toddlers.
"Our business has been built on family values, persistence, hard work and entrepreneurship," David said.
"We are extremely proud that we have been able to take innovative products to the world to protect our investment in the future – children. Consistent, reliable manufacturing quality and output has been the cornerstone of our business and our customers across the world have come to expect this from us day in day out."
David said by supporting local business, local jobs, environmental accountability, and demanding better-made products that last longer, we can grow manufacturing industries that work in-sync with local retailers and continue to be part of the backbone of Australian communities.
"This is extremely relevant given the current state of economic uncertainty, not only within Australia, but all over the world. Australians are renowned for coming together during a crisis, and this has never been more important to our future than now."
A list of Aussie Made products can be found at https://www.australianmade.com.au/products/