Better by design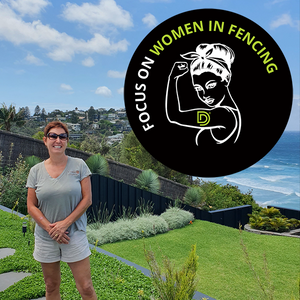 Spotlight on:
Narelle Warren, Managing Director of Brushwood Fencing Australia
At the recent National Fencing Awards held in Sydney, Narelle Warren from Brushwood Fencing Australia added a number of gongs to the company's already-impressive awards list. As well as winning the Industry Champion award for her advocacy work in the fencing industry, Brushwood Fencing were finalists in four other categories, including commercial and industrial fencing, decorative screens and walls, best urban residential project, and top businesses of 2021.
The recognition reflects the success of a business that's been a labour of love for Narelle and her husband, Michael, for almost two decades. Today Brushwood Fencing Australia's reputation sees it sought out for high-end residential and commercial installations across Sydney's northern beaches and eastern suburbs, including multiple golf courses and even the African Savannah enclosure at Taronga Zoo. An installation that saw her team in occasionally uncomfortable proximity to some very curious man-eating big cats.
As Managing Director of the business, Narelle visits every site in person and prepares every quote. Her background in landscape design is an added value to clients, through expert advice and guidance on how to get the best out of their brushwood installation. It's this design expertise combined with 30 years of 'on the tools' experience that's made her a trailblazer in the industry as well as someone who builds trust quickly with clients.
"We tend to deal with a lot of high-end properties and our clients are pretty discerning," explains Narelle. "As the person that comes out to meet with the client in the first instance and size up the potential of the project, I've generally found that people appreciate the perspective I offer and my eye for detail. I think that's something that women bring to this industry that's highly valuable."
Musing on the way the fencing and construction industry has changed over her career, Narelle says that it was tough when she started out, but perhaps no more so than most male-dominated industries at that time.
"It is true that 20 or 30 years ago it was fairly challenging to be a woman on the tools. You had to work twice as hard to be taken as seriously. But I don't think it's confined to this industry only, I think women have had to work harder in almost every sector where men have traditionally dominated, whether that's finance or transport or whatever. There's nothing wrong with working hard though, especially if you work smart too. It makes us better at our craft, which ultimately builds respect."

A loyal customer of D&D Technologies, Narelle had used the company's products even before she started working full-time in the Brushwood Fencing Australia business.
"I've been a loyalist for probably 20 years or so," she says. "D&D manufacture fantastic products and I've always had a very warm relationship with them. They clearly invest in their people in terms of training and customer service. People like to feel they're being taken care of, and D&D do a really great job of that."