Football and fencing – Twin passions of Penny Hoath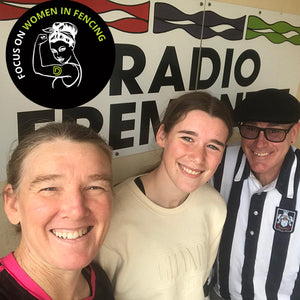 Fencing and construction is in the DNA of Penny Hoath's people. She is the third generation to work in her family-owned business, Gate & Fence Hardware WA, growing it to become one of Western Australia's leading suppliers of fencing components as well as a custom manufacturer of wrought iron and automated gates.
As a child, Penny and her brother spent a fair bit of time out on fencing sites with her mum, dad, and granddad, immersed in the world of materials, construction, and components. But learning the ropes of the family business wasn't her only passion. Penny was also a fantastic soccer player—a sport that saw her travel the world and play at an elite level, representing Australia in international championships during the early to mid 90s.
Today, Penny still plays for her local club in Perth, MUMFC, and hosts The World Football Programme on Fremantle radio every Saturday morning. She's also a coach and mentor to younger players, including her daughter Rose, who Penny says is "an awesome player" and one to watch.
She credits her football career with many great memories and a wonderful training ground for running the family business.
"I have travelled the world with some great teams," says Penny. "Playing in Europe and America and Canada, and in later years in New Zealand and England too. I made amazing friendships, and it led me on a lifelong journey of learning and community engagement. It set me up for returning to the business, working with my dad, and learning how to find and foster the best individual skills in great people so we can operate as a winning team to help us find our strengths, diversify the business and grow it some more."
Over the years, Penny says she's seen a fair bit of change—everything from the types of materials used in fencing to digitisation of office functions to attitudes about women in the industry. As part of her succession planning, she's teaching her daughter, Rose Maree, about the business in the same way her dad taught her and his father before him.
"Knowledge and expertise are really the key," says Penny. "There's no university you can go to where you'll learn all this stuff but having had the opportunity to learn from dad and to also pass that on to Rose has been wonderful. I'm glad that she won't know some of the old biases and attitudes and that she's just brought up in a space where her expertise and knowledge give her the confidence to do what she does."
Longevity is a key reason Gate & Fence Hardware stock and recommend D&D Technologies products.
"They're Australian and they're quality," says Penny. "We don't need to second guess their durability. As a multi-generational business, that's important to us. We want our products to stand up to the test of time because we want our customers to feel confident to recommend us to their next generation. D&D quality helps us do that."