How safe is your home?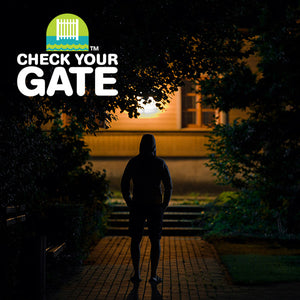 Your home is your castle and it's important to feel secure there. An increase in home burglaries, plus the upcoming holiday season, means that it's more important than ever to ensure your home, and everyone you love in it, is safe.
D&D Technologies Safe Gates Report revealed 18% of families have experienced a break in or security scare at their property. Astonishingly 75% of those people did not improve their security afterwards.
There are several steps you can take to ensure your home is secure from thieves. These include installing a security camera, keeping the doorway and pathway clear so you can view passers-by, and most importantly, installing a lockable gate.
Just the appearance of a gate can be enough to deter burglars, not to mention prevent thieves from gaining access to your home.

By placing a secure lockable system onto your gate you'll rest assured that your family, pets, and possessions are well protected.
A gate that can only be unlocked by you gives you the control of who enters your property, and who can leave. This can give you peace of mind if you have young children or pets – we know that they can sometimes wander off to explore nearby. This may make them vulnerable to passing traffic, strangers, unleashed animals, or other dangers. By installing a lockable gate system, you can rest assured that your family and four-legged friends are enjoying themselves in the sunshine but are kept secure and safe.
Everyone wants to feel relaxed and happy at home. A correctly fitted, locked gate, is your first step to giving you peace of mind.
To find out the right lock for your home, visit here.
Safe Gates… because everything cherished lies behind it.