LokkLatch: A World-First That Changed the Game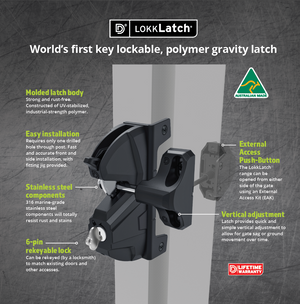 A moment of inspiration leads to Australia's best-selling gate latch
8 years after the invention of the game changing MagnaLatch® child safety gate latch, the product development gurus at D&D Technologies turned their attention to revolutionising the way most gates were latched and locked.  
Up until that moment, gates were generally secured with a steel bolt latch and separate padlock. To open gates from the opposite side of the latch, a hole would need to be cut into the gate to allow a hand to reach through and slide open the bolt. The technique, while popular, was cumbersome.
In 1997, D&D Technologies' David Doyle, inventor of the MagnaLatch®, determined that there could be a better way. By combining the latch and lock in one super-strong, rust-free polymer casing, the best-selling LokkLatch® from D&D was born.
Taking a radical new approach to the 'gravity latch' principle and combining the benefits of key-lockability and reliable latching action with superior design and durable components, the LokkLatch® has gone on to become Australia's best-selling general-purpose gate latch for homes, gardens, and back yards. 
The LokkLatch® range includes the LokkLatch® PLUS, LokkLatch® DELUXE and LokkLatch® MAGNETIC that all lock and operate from both sides of the gate allowing for secure, street-side entry. The simple version LokkLatch® REGULAR locks with a wafer key, but also has the option to install an EAK (External Access Kit).
The premium, bestseller, LokkLatch® DELUXE comes with a built-in fitting jig and re-keyable lock cylinders to match household locks.
Today, D&D Technologies is the global leader in the manufacture of gate hardware solutions, including latches, hinges, and gate locks.
Over the span of three and a half decades, we've seen plenty of imitators and competitors copy our first-to-market ingenuity. But the fact remains, we're still the original and award-winning standard others follow.
We're so confident in our reliable ingenuity, we offer a Limited Lifetime Guarantee.