POOL SAFETY FOR KIDS NEEDS YEAR-ROUND VIGILANCE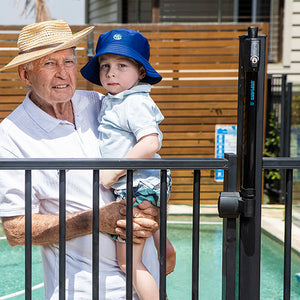 Long-time water safety advocate Laurie Lawrence knows the importance of regularly checking pool gates.
Now that spring has sprung across Australia, pool owners' minds turn to family fun-times around the pool. It's time to tidy up the back yard, get the pool-cleaner humming and generally prepare for the hot summer months ahead. 
Anything else? What about the most important aspect of all – checking the function and safety of your swimming pool fence and gate so they're ready to protect little ones over summer? 
Toddler drownings in backyard pools is still one of the largest causes of accidental death in children under five years in Australia. In some pool-laden locations it's the No. 1 killer. 
To make matters worse, the Royal Life Saving Society's 2021 annual report on drownings around Australia tragically shows that drownings of children 0-4 years rose 108% over last year, with 25 toddlers drowning Australia-wide! According to water safety advocates, such drownings are preventable.
The report shows that backyard pools were the main location for child drownings, in front of lakes and dams. Experts have put the increase down to COVID lockdowns and the fact so many families have been confined to home over 2020-21, and so the opportunities and odds of such incidences could only increase. The inability for kids to learn how to swim during COVID was another cause cited for the spike in numbers.
Gates, latches, locks and hinges are critical for child safety
The weakest part of any backyard pool setting is the pool fence, and specifically the pool gate. And when we talk pool gates it mostly comes down to the effectiveness of the gate latch (often referred to as "gate locks") and gate hinges, and how successfully they guard the pool area against unauthorised access by toddlers.
Think about it; faulty or misaligned gate latch = no gate. Faulty or non-self-closing hinges = no gate.
All good pool gates and fences should comply with Australian Standards, which strives for 'barriers' that prevent toddler drownings. For a simplified checklist of pool gate and fence safety tips check here. For a gate-specific checklist see here, with further child pool safety facts and tips here.
Safety gates around pools and other child safety zones should be self-latching and self-closing. The safest options are magnetic gate latches (which offer no resistance to closure and will latch first time, every time) and polymer gate hinges, which offer smooth, bind-free and rust-free closing of the gate. These latches and hinges are also highly adjustable, vertically and horizontally, so they can be adjusted at any time to ensure a reliable and effective pool gate.
Australian design and manufacturing company D&D Technologies invented magnetic gate latches and polymer gate hinges in the early 1990s. It has won numerous design awards for its ground-breaking MagnaLatch® Magnetic Child Safety Latch and polymer-based TruClose® Child Safety Gate Hinges, and its gate products are the choice of fencing professionals worldwide. See the company's child safety gate options here.
Any component of a pool fence or gate is only as good as the maintenance and attention they receive – not just in the summer months but all year round. Gates, latches and hinges should be checked regularly throughout the year, not just in spring and summer.
For 30 years D&D Technologies has also been closely involved with the prevention of toddler drownings in backyard pools. It has invested considerable time and resources in educating parents and pool owners on the importance of fence and gate maintenance, as well as the need for parental supervision of kids around pools.
For much of this time D&D has worked closely with the KidsAlive™ Water Safety Program, run by former Australian Olympic swimming coach and child water safety advocate Laurie Lawrence. About four years ago D&D and KidsAlive kicked off a national program known as 'Check-Your-Pool-Gate Month', which launches on the first day of summer, December 1. This campaign generates a lot of publicity and awareness to shine a light on the importance of regularly checking pool gates and fences, summer and winter.
The team at D&D Technologies is mindful of its status as one of Australia's safety products manufacturers. It's an attitude and passion to innovation and quality that runs from management to factory floor – all the while keeping manufacturing jobs in Australia.
There's a reason D&D Technologies' company tagline is "The world's most trusted gate hardware." Everything it designs and manufactures is based on the end-user's perception of trust, safety and quality.
Check out D&D's complete range of gate latches, locks and hinges at www.ddtech.com  Most of D&D's products are available at all good hardware stores or contact your local fencing contractor