Renee Brighton carries on a family legacy at Civico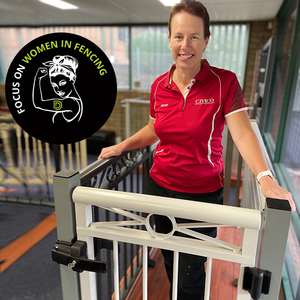 When William Brighton started his Newcastle-based fencing materials business in 1967, he could hardly have known that Civico would still be going strong as a successful third-generation family enterprise some 55 years later.
Originally focused on wrought iron and steel fabrication, today the company specialises in manufacturing and installing aluminium balustrading, gates, fences, and privacy screening as well as safety rails and pool fencing.
The shift in emphasis came when Ron Brighton took over the business in the late 1980s, after his father's retirement. By the early-mid '90s, Ron's daughter Renee worked a part-time job at the family business, supporting herself as she completed her university studies.
Cutting her teeth in sales and ordering, Renee went on to lead Civico's quality assurance accreditation, documenting every step the company undertook in its manufacturing process. In addition to converting her role in the business from part-time to full-time, it was a full-immersion, top-to-bottom education in how the business worked and the perfect avenue to pursue improvements that would create an even more sustainable business for the future.
"It was a really positive learning experience for me," says Renee. "I came in with fresh eyes and asked a lot of questions while I was documenting things. And we didn't have to change much, just a few things here and there that created a bit more efficiency."
Not content to be viewed as "just the boss's daughter", Renee went to night school to learn welding and secured her heavy vehicle license so she could drive the company's delivery truck. She views those steps as critical in establishing her credibility with Civico's highly skilled fabricating team as well as its customers.
"When I was younger, I certainly did have the experience of some of the older men coming in and not wanting to talk to me because maybe they thought 'what does she know'," says Renee. "But these days, it happens very rarely. More often I get comments like 'it's so great to see a woman doing this'. So, things are definitely changing."
Retiring in the mid 2000s, Ron sold his share of the business to Renee, the third generation of Brightons to run the company. Her sisters Natalie and Lauren also work in the business today, keeping up a family tradition that, in days past, involved her mother and grandmother too.
Another tradition that dates back a few generations, is Civico's relationship with D&D Technologies.
"We've been using their products for at least as long as I've been in the business," says Renee. "The products are amazing quality. We just trust them to work. They're great at keeping us updated on new products and the service is excellent.
"Of course, I've had competitors approach me over the years with their hinges and latches, and I've always said, 'yeah, thanks but no thanks'. When something works, why change it."