Spotlight on Karen Smith from Jim's Fencing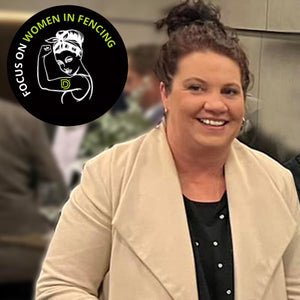 Women in Fencing 
From the bustling world of retail and hospitality to the franchisee management of Jim's Fencing Australia, Karen Smith's journey is an impressive tale of adaptability, customer-focus, and determination. 
Karen and her husband Jason started their journey with Jim's Fencing as franchisees. After eight fulfilling years, Karen took on the role of regional franchise manager for Jim's Fencing looking after around 100 franchisees. Whether it's solving business issues, providing product knowledge and support, or simply a friendly ear, Karen is a vital conduit between the franchisee network, Jim's corporate, suppliers, and trainers.
Her path to this position, however, wasn't linear. She recalls the pain of being made redundant from a job she adored in 2017. But adversity breeds adaptability. "To be honest, I was angry and upset. So, I went out digging holes with my husband and helping him in his fencing business," she shares. "It was pretty therapeutic, actually." 
This period wasn't just about digging holes, but rebuilding her career, post by post, brick by brick. Karen's ability to find strength in challenging times is evident as she reflects on her journey: "I learned the fencing game from the ground up. It was something I'd never done before, but I found that I enjoyed it and I got to use a lot of the customer skills I'd learned in retail and hospitality."
Her day-to-day responsibilities at Jim's Fencing paint a picture of a woman who is deeply involved, responsive, and determined. Her phone rings constantly, and her aim is always clear — to ensure the happiness and success of the franchisees. It's not always an easy task, especially when maintaining the brand's reputation. As she aptly puts it, Jim's believe in "always working up to a standard not down to a price."
The uniqueness of Karen's role, sitting at the centre of Jim's Fencing on the one hand and the practical needs of franchisees on the other, means building bridges, not just fences. 
"My job is really about harnessing the value of a network, leveraging the strength and the experience of everyone within it," says Karen. "Having a good network where you can share insights, troubleshoot problems, or even share workloads when needed is invaluable. The beauty of being part of a bigger group or franchise is you're not just trading on your own expertise but the collective expertise of everyone in the group."
Karen's experience with D&D Technologies underscores the importance not just of high-quality products but the value of strong partnerships and training too.
D&D has been proactive in cultivating a strong relationship and providing bespoke training sessions for its best-selling product range. These sessions provide opportunities for fencers to broaden their knowledge and learn more efficient modes of installation for D&D's locks, latches, and hinges. It's also a chance for franchisees to lean on one another and benefit from the combined knowledge in the room.
"As individual operators, these guys don't see each other that often, but put them in a room together and they'll just start chatting away," says Karen. "And you might have someone that hangs back and doesn't say much. But two days later, they'll call me up and ask me for more information about something someone said. And I can put them in touch with the person that said it. I always tell my guys that, yeah, you've got me, but you've got 100 other friends as well."