The High Cost of Low Quality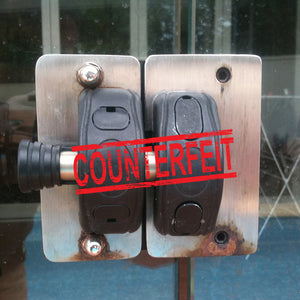 You get what you pay for, the saying goes. Coined around the same time as the dawn of mass manufacturing in the late 1800s, it's a warning against choosing a cheaply made product the failure of which could end up costing you much more in the long run.
In today's world, consumers have never been more savvy or more powerful when it comes to informing themselves about product quality. Social movements to reject disposability and reduce waste have permeated everything from coffee cup design and upcycled clothing to the preference for local manufacturing supply chains and an expectation of heavy-duty durability.
More importantly, consumers want to know that the thing they bought will last and not create headaches for them down the track.
In the fence and gate hardware industry, there's another saying that we tend to hear a lot, which is that a fence is only as strong as its weakest part. You can install the world's strongest gate, but if the hinges that hold it up or the lock that keeps it secure are poor quality then the integrity of the whole structure is compromised. The result is that a few dollars saved on a cheap part can expose your property to easy access by a thief, the anxiety-inducing escape of a beloved pet, or worse—the endangerment of a child in a backyard swimming pool.
Unfortunately, the gate hardware space is rife with cheap and shoddy components. Products that will warp and bend under pressure, rust when it rains, or simply break with repeated use. For property owners, it's a nightmare of unintended consequences. For fencing installers, poor quality components cost time and money in maintenance call-backs, create unnecessary waste, and hurt business reputation.
The D&D Difference
Thirty-plus years ago, D&D Technologies invented the MagnaLatch®, the award-winning magnetic gate latch found on millions of pool and child safety gates across the world. We followed that innovation with industrial-strength rust-free polymer gate hinges designed to stand up to the toughest conditions. Since then, we've earned the title of world's most trusted gate hardware brand due to our uncompromising manufacturing standards.
Because our products exist to protect property, privacy, and most importantly—people, we will not cut corners. The real and hidden cost of low quality—on safety, customer satisfaction, and our reputation—is simply too high.
That's why we use superior virgin polymers and industrial strength stainless-steel components. It's why we manufacture locally in Australia where we can directly monitor quality from the factory floor. We rigorously test our products to tens of thousands of open and close cycles in the wet, heat, and cold. And we guarantee our products for life.
Over the span of nearly four decades, we've seen plenty of imitators and competitors enter the market. Truth be told, we welcome any innovation that makes people and properties safer. But the fact remains, we're still the original and award-winning standard others follow because premium quality is always in demand.
Check out the D&D product range for gate locks, latches, hinges, and gate accessories—including the revolutionary MagnaLatch®, LokkLatch®, TruClose®, and SureClose® products—here.