The mother-daughter duo who've built a fencing dynasty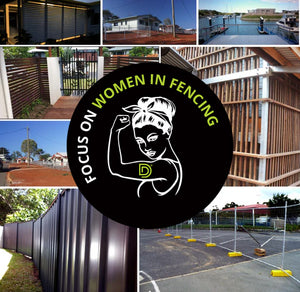 Twenty-five years in the fencing game is a successful stretch by anyone's measure. Doubly so when you're breaking through glass ceilings and creating a family dynasty along the way.
And so it goes for mother-daughter duo Debbie Whittaker and Amy Roberts, who next year, will celebrate the silver jubilee of Cairns Fencing as a female-owned and led business in what remains a largely male-dominated industry.
Their enduring success has been built on rigorous processes, a reputation for uncompromising quality, and a culture of innovation and respect.
The early days of the business came with no shortage of challenges. Back in 1998, armed with a brain for numbers and finance built on a career in banking, Debbie Whittaker was looking for a business to buy and grow. When she settled on Cairns Fencing it was a small domestic fencing company with a handful of employees and a load of untapped potential.
She set about learning everything she could about fencing products, construction standards, and the industry in general, all the while winning over a deeply sceptical customer base.
"Back then it was very blokey," says Debbie. "We'd have contractors and customers come in and say, 'Can I talk to one of the boys?' despite the fact I owned the company and could tell them just as much about what we did.
"That took a lot of work to cut through and things didn't change fast. It probably took 10 years at least before attitudes started to shift. But because I was very focused on quality and doing things to a very high standard, I developed a reputation, especially with construction companies, that eventually they only wanted to deal with me."
Over the years that followed, Debbie transformed the business, shifting it from residential fencing to large-scale commercial and infrastructure projects, becoming one of the leading and preferred partners in the Cairns region. Today the business supplies a wide range of fencing products as well as designing and manufacturing custom gates, panels, screens and balustrades. Along with 14 full-time employees and a dozen or so permanent installers, Cairns Fencing gets called in to deliver projects as large and high security as fencing an airport, or as far away as Saibai Island in the Torres Strait.
The next generation
After more than two decades at the helm, Debbie has recently taken a step back, handing the reins over to the second generation of the Whittaker women, her daughter Amy. She says she couldn't be prouder or happier to know the business will continue to be nurtured in the hands of a strong and capable woman, with her own plans and ideals for success.
"Amy taking over the business and keeping it a family-led company is something I'm very proud of," says Debbie. "She has the confidence of someone who has grown up around the business and has a lot of respect from our staff and customers."
For Amy, taking over the company wasn't initially part of her career plan. With a degree in engineering from the University of Queensland, she had set her sights on large-scale structural engineering projects. But with the business in her blood, when duty called, she answered. She now carries on the legacy her mother built, but with her own stamp on it.
"We're pretty different," says Amy. "And I think me taking over from mum worked because we both accepted that the business needed to evolve to reflect how I wanted to run things. Mum's still on board, staying across the financials and providing guidance where it's needed, I'm much more in the day-to-day operations and streamlining what we do even more toward the manufacturing and custom supply side of things.
"The other big focus for me is ensuring that we stay a place people love to come to work, so keeping the culture strong and building loyalty is a big part of that. That's been another great legacy that mum built and a huge part of our success."
Loyalty counts for a lot
Perhaps the last word on loyalty belongs to Debbie, who has been stocking and selling D&D products from the very beginning.
"Our relationship with D&D has been ongoing since I bought the business in 1998. The durability of their products, the fact they're Australian made and guaranteed for life, has always fit perfectly with our dedication to quality."

"Over the years we've seen plenty of other competitors try to get our attention, but we've never stocked anything else on our shelves other than D&D Technologies quality gate hardware products. I believe in being loyal to those that have helped you build your business along the way. Loyalty counts for a lot."