Jodi Pucci from All fencing Caloundra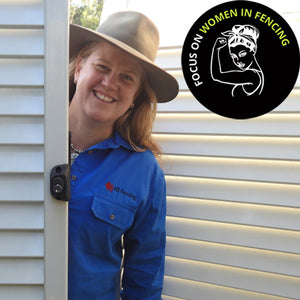 In the world of fencing, women like Jodi Pucci are indispensable lynchpins in countless successful family-owned businesses. Co-owner of All Fencing in Caloundra, alongside her husband Victor, Jodi has helped oversee the company's growth and success in South East Queensland. 
Jodi's journey in the fencing industry started with administrative support and answering the phone while Victor was out on jobs, but like any small, yet fast-growing business, necessitated wearing several hats. She didn't shy away from rolling up her sleeves and joining Victor on the job site when it was needed. She credits this hands-on experience with giving her a deeper understanding of the practical aspects of fencing, proving invaluable in her role.
"Hands-on experience means I can relate when people are ringing up and asking for a fencing solution," says Jodi. "I can ask the right questions, provide advice, and make sure we're quoting in the most efficient way. So that does help a lot."
One of the key pieces of advice Jodi offers to other women considering a career in the fencing industry is to spend time on the tools and "learn the fencing lingo". Her journey underscores the value of firsthand knowledge, as it enables better communication with clients and a more comprehensive understanding of the industry.
All Fencing has a long-standing relationship with D&D Technologies, dating back over a decade. The reliability and quality of D&D's products have made them a trusted choice for Jodi and Victor. 
"Over the years we've had competitors come to us with their locks and latches and nothing stands up to the quality of D&D," says Jodi. 

"We've even been sent boxes of free latches from one competitor, but we'd never use them because they're not good quality and they'd ultimately hurt our reputation," agrees Victor. "It might be cheaper to go with those products, it's just not something that we were comfortable with. And we've always been comfortable with the quality of what we've been provided by D&D."
The importance of reputation is driven home by the strong word-of-mouth referral that All Fencing has built up in Caloundra, since the couple relocated there in 2017. Business is booming, thanks to a good deal of development in the region, and Jodi's exceptional customer service ethic. 
"Clients trust us because they know they are dealing with a small, family-owned company that listens to what they need and delivers quality work," says Jodi. 
As for the future, All Fencing is looking to expand by opening a shopfront and warehouse in the nearby Aura estate. Jodi says the move will enable them to offer fencing and gate accessories to the local community, further solidifying their presence in the industry.
Jodi Pucci's journey in the fencing industry exemplifies the significant contributions women make to this traditionally male-dominated field, both in the office and on-the-tools. Her commitment to excellence, practical experience, and customer-centric approach serves as an inspiring example for women aspiring to make their mark in the industry.