A need to provide customers with the best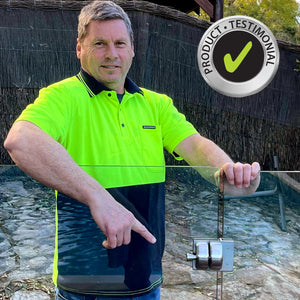 Waratah Glass Fencing has specific gate hardware requirements. Its modern glass fencing designs demand trusted and proven products, such as the MagnaLatch® Side Pull latch, in polymer and stainless steel varieties.
"We want to provide our customers with the best available" says Waratah's Michael Ryan. "So we only use products that have stood the test of time and will function long term. It's extremely important for protecting and saving kids' lives."
Michael says he chooses D&D products for his aluminium and glass gates because he knows he won't have to worry about call-backs.
"D&D's MagnaLatch® SidePull is great because it's key lockable, and that's a massive plus for our customers! With our glass panel designs and
key-locked gates it creates an impenetrable barrier for children."
Asked about Waratah Glass Fencing's philosophy towards Australian-made products and components Michael says the company likes to support Australian innovation and design.
Says Michael "We know that D&D gate hardware is rigorously designed and tested to the stringent Australian Standards. D&D started out in Sydney and their story is inspiring, and the fact they give back and do so much for child pool safety and drowning prevention is really important and appreciated by a glass pool fencing companies like ours."