Check Your Gate's Integrity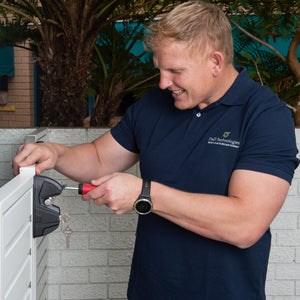 Installing and maintaining your gates isn't just about making your property look good. It's also about keeping all that you love safe and protected.
In general, gate latches and hinges make up just 1% of the total cost of a fencing installation…but they make the other 99% function correctly and protect people, property and pets effectively. 
The operation, construction (materials used), quality, weight, functionality, footprint and security are just some of the variations to consider when making an informed decision about gate hardware.
Fences and gates can shift due to ground settling, environmental factors and general use and abuse. The ensuing improper gate positioning may create a safety or injury risk, or both.
Latches, locks, hinges and closers with integrated adjustability ensure gates work reliably and safely at all times. 
Correct installation and application together with preventive maintenance and regular inspections will not only extend the life of gate hardware, but also prevent injury, theft or aggression and possible litigation.