Don't bother using anything else!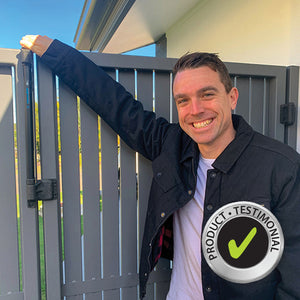 Sam Bevis began working in the family business more than 20 years ago. At 15 he started out sweeping the floors and carefully worked his way up, mastering trades in boilermaking, glazing and structural aluminium along the way.
Today, Brisbane-based Architectural Metalworks Australia (AMA) is one of the big players in the fencing, balustrading and fabrication business.
Sam says AMA has been using D&D Technologies' reliable gate latches and hinges for as long as he can remember.
"When it came to products like MagnaLatch®, LokkLatch® and TruClose® hinges I remember my uncle saying 'Don't bother using anything else!', and that was that. We've always used quality products, and, where possible, Australian-made products, so the D&D products are ideal for us and we know we can depend on them."
AMA has been a particularly avid user of TruClose® hinges for its gates, and was likely the first company in the world to create its own adaptor plates so that it could use the rust-free hinges on glass gates. Says Sam: "Some of those hinges have been opening and closing for more than 20 years, so you can't ask for better proof than that."
Asked about the importance of using Australian-made products, Sam Bevis says everything AMA does is based around trying to use Aussie-made products to ensure quality, durability and safety.
"I really want to shout a big 'thankyou' to D&D for providing us with 30 years of dependable gate products which have helped AMA provide its customers with the best. It's a win-win."