New Product Release - TruClose® Multi-Adjust™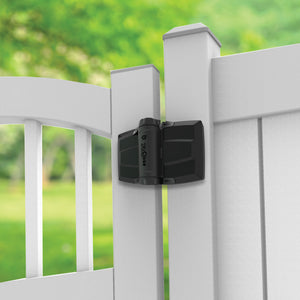 D&D Technologies Introduces Revolutionary 3-Way Adjustable TruClose Heavy Duty Hinge: A New Era in Gate Hardware Innovation
D&D Technologies, a name synonymous with groundbreaking gate hardware innovations that prioritize safety, quality, and reliability, proudly presents its latest milestone in gate hardware evolution—the TruClose® MULTI-ADJUST Heavy Duty Hinge Series 3. This remarkable 3-way adjustable hinge redefines industry standards, with horizontal, vertical, and self-closing speed tension and tilt adjustments, with no special tools required. Homeowners can easily adjust them without the need for frequent callbacks to fencing contractors or installers.
Recently, the hinge received a strong endorsement as a prestigious
GOOD DESIGN AWARD WINNER – awarded to projects that demonstrate design excellence. 
Offering unparalleled strength, versatility, and effortless installation, the TruClose® MULTI-ADJUST Heavy Duty Hinge is the pinnacle of gate hinge technology.
Key features and benefits include:
Unrivaled Versatility: Designed for easy gate alignment, this hinge provides multi-adjustable technology, ensuring secure gate closure on every use. With built-in mounting brackets for added fixing strength and alignment.
Exceptional Strength: Built to withstand the toughest conditions, this model is perfect for heavy vinyl or composite gates, supporting weights of up to 70 kg (154 pounds).
Lifetime Guarantee: D&D Technologies stands behind the TruClose MultiAdjust Heavy Duty Hinge, offering a limited lifetime warranty.
David Calabria, CEO of D&D Technologies, emphasized the company's commitment to innovation, quality, and reliability, saying, "We are dedicated to creating gate hardware that places safety first and simplifies installation for professionals and DIY enthusiasts alike. The TruClose® MULTI-ADJUST Heavy Duty Hinge follows in a long line of innovation and invention for D&D Technologies and is a testament to our unwavering commitment to quality."
The TruClose MULTI-ADJUST Heavy Duty Hinge caters to both fence installers and contractors, as well as DIY consumers. Its patent-pending design allows for easy vertical and horizontal adjustments using a simple flat-head screwdriver. The self-drilling fasteners simplify new hinge installations, reducing frustration and saving valuable time. Available in black or white finishes it will suit any vinyl or composite gate application. A new wood and metal option will be available in early 2024.
Designed, engineered, tested, and made in Australia, the super-strong hinge can weather the toughest elements and treatments. Constructed from resilient fiber-reinforced, impact-resistant polymer that won't rust, bind, or sag, the TruClose MultiAdjust Heavy Duty Hinge "solves gate sag for good".