"Products cop a beating but keep working"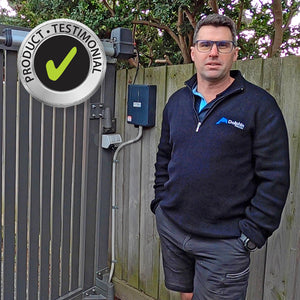 Matt Jacobs came from a commercial cabinet-making background when he started Dolphin Fencing in 2004.
Matt saw a niche in quality, custom-made pool fencing at the time and recognised that D&D's MagnaLatch® Child Safety Gate Latch and TruClose®  Gate Safety Hinges were the ideal products to support his quest for quality and reliability.
Today he's expanded into all types of residential and commercial fencing and gates and says 90% of his projects carry D&D's latches, locks and hinges.
"Over the years I've had other suppliers knocking on my door trying to sell me alternative hardware," says Matt. "But to me D&D is a one-stop shop of quality gate products – products that cop a beating but still keep working."
Matt says he's also keen to trade with companies like D&D that offer Australian Made…"to support the country we live in."
"I have a long working relationship with D&D. They value my feedback on products past and in development, and they're always looking to improve and produce the best for their customers and distributors."
In recent times Dolphin Fencing has been using the heavier-duty SureClose® and Shut It® range of gate hinges and closers on larger swinging gates because of the products' strength and adjustability. Matt says Dolphin's custom fence and gate projects can select from either of these hinge-closer ranges to obtain the perfect closing solution.
"They give us flexibility and peace-of-mind and we know we won't have any call-backs or failures."