Testimonial – Victor Pucci from All Fencing Caloundra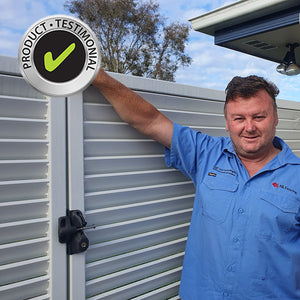 "You can't chance it – kids' lives are at risk"
"I love them, my wife loves them and customers absolutely love them!" declares All Fencing's Victor Pucci in praising D&D's MagnaLatch®, TruClose Hinges® and LokkLatch® products.
Victor, recalling his 15 years as an aviation engineer (with the ill-fated Ansett airlines) in the 1990s, recounts how he first bought into a handyman franchise before discovering his best projects involved gate repairs or replacement. That's when he discovered D&D's innovative gate latches and hinges.
With the QLD pool fencing legislation overhaul in 2010 he also became a Pool Safety Certifier before earning a QBCC Licence and starting All Fencing in Brisbane, and, subsequently, the Sunshine Coast.
"Give me an Australian-designed and Australian-made D&D product with a lifetime warranty any time. For a short period a supplier urged me to try the cheap copy magnetic latches and polymer hinges…and they failed most of the time and caused nothing but drama and callbacks. You can't chance it – kids' lives are at risk."
All Fencing manufactures lots of custom-made, aluminium slat-style gates, to which he "always" installs a LokkLatch® DELUXE Privacy & Security Latch and a pair of KwikFit® General-Purpose  Gate Hinges.
"Again, customers love the LokkLatch," says Victor. "They get a great key lockable latch on a stylish, modern gate and they couldn't be happier. That's how I like to run my business."