The Innovation DNA of D&D Technologies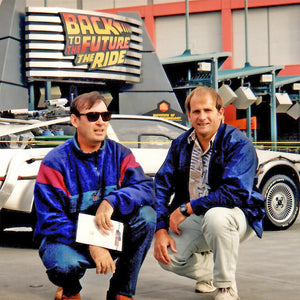 D&D Technologies' cofounders David Doyle top left and Neil Dunne top right, get 'Back to the Future'
The culture of creativity and innovation that defines D&D Technologies' business stretches all the way back to 1988. Cofounder David Doyle (one of the Ds in D&D; the other being Neil Dunne), was watching a science program on TV. In it, the merits of rare earth magnets—exceptionally strong permanent magnets made from alloys of rare-earth elements—were being discussed.
Leaping off the couch, David knew he'd found the way to make a stronger, smarter, more durable gate latch that wouldn't jam, stick, rust, or lose its magnetic closing force. Experimenting in his workshop, David developed a prototype of the very first MagnaLatch®, a product that would go on to revolutionise the gate hardware market and set a global benchmark for child safety around pools.
Fast forward 35 years and the MagnaLatch® has been installed on millions of pool and child safety gates all over the world.
That game changing flash of innovation didn't just set a new standard in safety; it sparked a culture of innovation and invention that has seen D&D Technologies grow to become the world's most trusted gate hardware brand. 
According to Richard Zitzelsperger, D&D Technologies Group Product Development Manager, David and Neil's legacy has created a culture that prizes creative thinking and encourages ideas to come from anywhere—not just the product team.
"D&D is a deliberately decentralised organisation," says Richard. "This means that everyone has a voice, and every voice is respected. At our weekly cross-functional meetings, ideas are shared and opened to creative thinking and problem solving.
"Ideas also come from our customers. We listen to what they're telling us and use those insights to develop new products or product improvements that address the evolving needs of the market."
A case in point is the company's award winning MagnaLatch® Alert product, designed to trigger an audible alarm and a flashing LED light if a gate is left open or the latch doesn't properly engage on closing. The design innovation followed the insight that drowning accidents, especially those involving small children, often happen silently.
"Even with the best defences of a pool fence and child-proof latch, gates sometimes get chocked open or breached by intruders," says Richard. "And you can't keep your eyes on your kids and pets 100% of the time. The alarm on the MagnaLatch® Alert means that you can hear from a distance if the gate is open, giving you time to get to the gate to secure your loved ones from danger."
For all D&D Technologies' disruptive innovation and experimentation, what makes it work is a robust quality control process that ensures products meet the company's exacting standards before they go out the door.
"When a good idea is surfaced, we jump on it immediately," says Richard. "We share it. We cultivate it. We test it relentlessly and repeatedly to ensure the product is engineered to withstand tough punishment.
"Our mantra is: always be the best—in ingenuity, in performance, in value. We will not settle for anything else. It's as simple as that."