Thinking differently with Think Fencing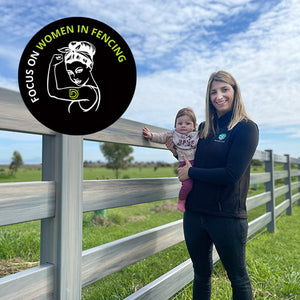 Women In Fencing – Nadene Fitzgerald
Think fencing, and images of some of the most common types of materials come to mind: wooden palings, wrought iron, steel or aluminium, and chain link. But a growing industry — thanks to its durability, moldability, and affordability — is composite vinyl and PVC fencing, of which the leading Australian innovator and manufacturer is Portarlington-based Think Fencing.
Owned by irrepressible innovator, Jack Fitzgerald, with operations overseen by his wife Nadene Fitzgerald, Think Fencing's products are made from polymer composites that can be moulded to appear like traditional materials such as wood and steel and extruded with a range of coloured pigments that are so long-lasting that painting maintenance is a thing of the past.
Nadene's journey with the business goes back a decade, starting as a favour to her then partner (now husband) Jack to help him with a trade show. A secondary school teacher by profession, Nadene had some time on her hands having just returned from a stint overseas and was happy to help. Catching the fencing bug, she never returned to teaching and has been working for the business ever since.
"Over the last decade, I've grown as the company has grown," says Nadene. "When I started Think Fencing had about 5 employees and I was simply assisting Jack with answering the phone and replying to emails. From there I learnt how to quote and became a salesperson. Then I trained other sales consultants and took over scheduling and organising raw materials for production and fabrication. Eventually, I worked my way up to General Manager which has me managing 30 staff across 5 departments, 24 hours, 5 days a week."
Nadene's advice for women in the fencing industry is to stay up to date with the latest innovations as the industry is constantly evolving with new technologies, materials, and practices. As someone who speaks the 'fencing lingo', she says customers appreciate her knowledge and approachability. She counts among her happiest achievements the opportunity to train and mentor other women in the industry.
That mentoring and training has paid off, with Nadene able to step back this year after giving birth to daughter, Airlie.
"We've been able to build up this very talented team at Think Fencing and it's given me confidence that it's in good hands while I'm learning to be a mum. I'm still actively involved in the business, with payroll and accounts. Airlie loves visiting the office with me; she gets fussed over by everyone. I plan to return as a manager when the time is right."
As a fellow Australian success story, Think Fencing is a big supporter of D&D Technologies. Nadene says both companies share similar views and qualities, having both started small and innovating their way to success locally and abroad.
"Ever since I have worked for Think Fencing, we have used D&D Technologies' products," says Nadene. "We mainly use their heavy-duty TruClose® hinges that are specifically designed for PVC Fences. We also use a range of latches such as the LokkLatch Deluxe®. In 10 years of supplying D&D Technologies hinges and latches, I have never had one returned."