'When we're on a good thing we stick to it'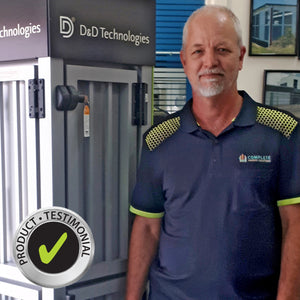 Andrew Scott, of Complete Barrier Solutions in Bundaberg, has been installing MagnaLatch® and TruClose® Hinges since the very first models of the 1990s.
Having been in the fencing industry for 25 years he knows the best of everything when it comes to gate and fence components. His company does all its own fabrication, powdercoating and installation, so it demands products it can trust to stand the test of time.
"We use everything from D&D Technologies," says Andrew. "We put MagnaLatch® and TruClose® on aluminium pool gates, LokkLatch® DELUXE and KwikFit® Hinges on driveway and pedestrian gates, and LokkLatch® REGULAR on garden gates. Everything just works. We need to know that every time we install a gate it will close, shut and latch."
Asked about his earliest impressions of TruClose® polymer hinges, Andrew admits he thought the concept a brave one. "At first I thought 'Not another thing that's plastic.' But all those hinges and latches are still out there and they just keep working…and they don't rust or corrode. We know we can depend on them."
Complete Barrier Solutions also relates to D&D's Australian-made status. Andrew says he tries to use Aussie-made whenever possible.
"That's definitely what everyone should be doing and buying. Support Australian businesses and manufacturing jobs by buying locally made products like D&D's latches and hinges."