Pool Safety This Summer season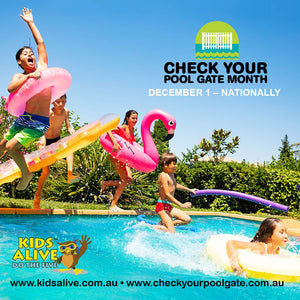 Lax pool gate safety puts families at risk in peak pool party season
Pool parties are on the agenda for summer this year but at what cost, with the safety of backyards under scrutiny after research revealed 57% of pool owners were not checking the safety of their pool gate, fence and surrounds adequately.
The MagnaLatch® Pool Safety Report, commissioned for national 'Check-Your-Pool-Gate Month', revealed 42% of pool owners checked their gate only once a year, 11% every few years and 4% had never checked their pool gate. This is despite 87% of Australians planning to host a pool party this summer.
KidsAlive™ founder and 'Check-Your-Pool-Gate Month' ambassador Laurie Lawrence, along with his daughter, KidsAlive™ Managing Director Emma Lawrence, said with backyard pools responsible for so many drowning deaths, pool owners needed to take more responsibility for the safety of their pool areas.
"Unbelievably, a third of pool owners claimed that they did not have enough time to conduct a safety audit and another 30% were not sure what safety elements to check," Laurie said. "It's not a complex thing for people to manage. It only takes a few minutes for pool owners to check their pool fences and gates, including the latches and hinges, to ensure they are in good working order."
"Summer is always the peak drowning season and gates are one of the top lines of defence in preventing children access, so it is vital gates are working properly and doing their job."
Federal Minister for Health and Aged Care Greg Hunt said 'National Check-Your-Pool-Gate Month' was the reminder every pool owner needed to ensure the safety of their pool area. 
"All Australians know that safety around pools doesn't start at the water's edge," Minister Hunt said. "It starts with making sure fences and gates are working properly to help keep young children safe."
"Initiatives like 'National Check-Your-Pool-Gate Month' help educate parents and caregivers on what to check and reaffirm the importance of being vigilant and making sure their backyard is ready for pool party season this year. It only takes a few minutes to ensure your pool area is safe this summer."
With 82% of families claiming they would be attending a pool party this Summer, Emma Lawrence urged guests and hosts alike not to lose focus on the safety aspect of their event.
"The MagnaLatch® Pool Safety Report shows 49% of people believe it's acceptable to leave a pool gate propped open during a party and only 28% of families designate a supervisor to be in the pool area at all times when children are in the pool," Emma Said. "40% of people believe it's the individual responsibility of the parent to supervise their child.
"The issue is, I've heard so many stories where there are parents everywhere but incidents still do occur. Drowning is silent, there is no warning, no screaming. Prevention is the answer and one of the key aspects of that is a safe, correctly fenced and gated pool, coupled with constant supervision when kids are in a pool. Safe and fun is the best combination for a party."  
John Clark, Technical Director of Australian company D&D Technologies, the manufacturer of the MagnaLatch® Pool Gate Safety Latch and TruClose® Safety Gate Hinges, said the company is a long-time partner of KidsAlive™ and wanted people to speak up about fence safety.
"The good news is people are safety conscious, with 78% of Australians willing to confront a friend or family member if their pool area is not compliant and the same amount stipulating pool rules when they had people over. It shows the message is getting through and drowning prevention campaigns like 'Check-Your-Pool-Gate Month' are having an impact."
Clark said the research also showed 36% of Australians had someone in their family that had a negative water experience involving a pool.
"Pools are great fun but they can also be dangerous, so it's about being cautious. A pool owner should check their fence and gate, including the latch and hinges, at least 6 times a year but especially before peak usage times like in Summer. All the hardware can be easily installed and upgraded, ensuring there is no excuse for pool owners."
To ensure families enjoy the perfect pool party, 'Check-Your-Pool-Gate Month' has created a guide with a range of event experts that guides people through planning and hosting a party, menu ideas, pool-party etiquette and of course pool fence and gate safety.
D&D's Australian-made magnetic latches and polymer gate hinges are the safest, most effective option for pool gates and had saved countless lives over the past 30 years since they were invented.
Visit www.checkyourpoolgate.com.au to download the Perfect Pool Party guide.